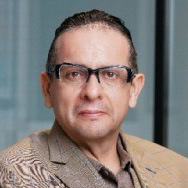 GROUP CHIEF TECHNOLOGY OFFICER, ZUELLIG PHARMA​
Luis Enriquez leads Zuellig Pharma's technology operations as the organisation's Chief Technology Officer. In his role, he oversees enterprise-wide digital strategy and is responsible for the digital transformation of the company, including the incorporation and expansion of innovative, cutting-edge solutions in Zuellig Pharma's distribution and healthcare services businesses.
He most recently served as the Head of Grabber Technology Solutions and Enterprise Cybersecurity at Southeast Asia's largest transport, food delivery and payment solutions company Grab, where he was responsible for the definition, implementation and operationalisation of the Grab IT strategy. In his role, he led the implementation of IT, cybersecurity and operations for the establishment of the first digital bank in Southeast Asia in partnership with Singtel, and the e-commerce and digital transformation of Grab through COVID-19.
Luis has nearly three decades of experience in advising multinational corporations and Fortune 100 companies in the implementation of transformative technological solutions and the designing and deploying of digital strategies. He has held leadership positions in pioneering organisations such as General Electric, Accenture, and AIG.

He holds a Bachelor of Science in Electrical Engineering from the University of New Mexico and is fluent in five languages.